Podcast: Play in new window | Download
Recently, businesses should have received their Commercial Personal Property Assessment Forms. Every year Potts & Company receives calls from our clients to answer questions about how to complete these forms. One of the most frequently asked questions is how to calculate average inventory. This is because some businesses just don't count their inventory but once a year, if then. But sometimes clients just call the Assessor. The Assessor's instructions usually result in an overstatement or understatement of inventory.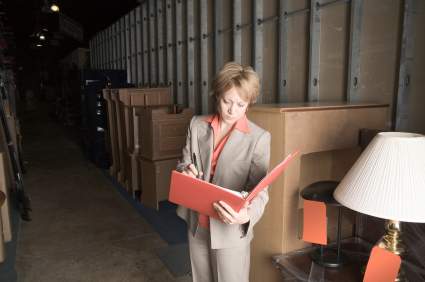 For several years, I have been arguing with one of the Business Assessors over how to correctly value inventory. This story is detailed in an article I wrote for The City Wire, published Monday, February 18th, 2013 titled State Government and Basic Math. It is this long running argument with this Business Assessor that motivated me to contact the Sebastian County Tax Assessor, Becky Yandell, to discuss this issue. Ms. Yandell graciously consented to an interview where we discussed the valuation of inventory and several other topics related to Arkansas personal property tax issues. (This podcast is this interview.)
Arkansas law requires owners of personal property to assess that property each year. Personal property includes the inventory of a business. If a business fails to assess its inventory, the Business Assessor will contact the business, then ask for the business' total cost of goods sold for the previous year. The Assessor will then divide cost of goods sold by 12 and assess your inventory value at this amount. However, when you divide cost of goods sold by 12, you arrive at the business' average cost of goods sold, not its average inventory,  which is what Arkansas law requires. But the Sebastian County Tax Assessor has to work under the authority of the Arkansas Assessment Coordination Department (ACD). It is the ACD that instructs the county assessor to assess the value of inventory by dividing cost of goods sold by 12.
Why would this even be an issue? Well, if you are a business that quickly turns its inventory, this method would over value your inventory and you would pay more personal property tax than you legally should. If you turn your inventory more than 12 times each year, you can relax. Your inventory will be under valued. If you report a reasonable inventory value before you send in your assessment form, it generally will be accepted at face value. It is only businesses that fail to assess any inventory or businesses that are delinquent in assessing their commercial personal property that have to deal with this issue.
How to Calculate Your Personal Property Tax
In order to calculate personal property tax in Arkansas, you have to determine the market value of all your non-household personal property. The next step is divide this market value by 5. This will give you 20% of total value, the assessed value of your property. Now multiply the assessed value of your personal property by the millage rate. Millage rates are determined by public school districts. Currently, Fort Smith's millage rate is $52.50 per thousand dollars of assessed value. So, if you live inside the Fort Smith School District,  to arrive at the dollar value of your personal property tax, multiply the assessed value of your personal property by 0.0525.
Example: A person with taxable personal property totaling $100,000 would have a personal property tax liability of $1,050. [ $100,000 / 5 = $20,000. $20,000 x .0525 = $1,050]
Barling's current millage rate is $49.80 and Greenwood's millage rate is $52.20.
What is I Don't Agree with the Assessed Value of My Property?
If you disagree with the assessed value of your property, real property or personal property, I would first talk with the county's tax assessor office. If you cannot come to a compromise, your next step is to appeal to the county Equalization Board.
You can pick up a petition to appeal to the county Equalization Board from the County Clerk Office. In order to be considered, the petition must be filed by the third Monday in August.
Other Resources You Might Find Helpful or Interesting:
Sebastian County Assessor Office
The Arkansas Assessment Coordination Department publishes an appraisal manual.
The Total 2011 Assessed Values of All Property in the following counties are listed as:
Benton        $4,214,948,120

Crawford     $   680,983,871

Sebastian    $1,873,627,544

Washington $3,097,372,684