IRS Says: Here are the Top Tax Scams for 2014
NOTE:  THIS IS NOT A "HOW TO DO IT" COURSE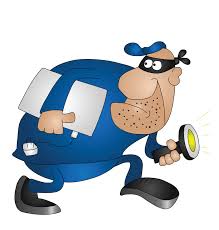 Each year the Internal Revenue Service issues its "Dirty Dozen" list of tax scams, urging taxpayers to be cautious, particularly during tax season. We share them with you here, with the hope that by being informed you may protect yourself.
IDENTITY THEFT    This occurs when someone uses your personal information, such as your name, Social Security Number or other information, without your permission. This can occur in many ways, but the IRS naturally is most interested when someone uses your "digits" to fraudulently file a tax return and claim a refund. If you believe you are at risk of identity theft due to lost or stolen personal information the IRS asks that you contact them at the IRS Identity Protection Specialized Unit at 800-908-4490 so they can secure your tax account.
PERVASIVE TELEPHONE SCAMS     In this scam, callers pretend to be from the IRS in hopes of stealing money or identities from victims. The IRS reports learning of many variations ranging from instances such as the caller says the victim owes money or is entitled to a huge refund. The victims are sometimes threatened with arrest or driver's license revocation, and are sometimes paired with follow-up calls from people saying they are from the local police or the state motor vehicle department.
Scammers can give names and IRS badge numbers (fake, of course);  in some instances they will be able to give the last four digits of a victim's Social Security Number, and some will imitate the IRS toll-free number on caller ID to make it appear that it's the IRS calling. Sometimes they will send bogus IRS emails to support their bogus calls, and create background noise of other calls to mimic a call center.
Phone scams can target taxpayers, sometimes recent immigrants; folks are told they owe money to IRS and it must be paid promptly via a pre-loaded debit card or wire transfer. They will threaten arrest, deportation or suspension of licenses, and will become hostile and insulting.
If you get a call from someone claiming to be from the IRS, here's what you should do, according to IRS:  Call the IRS at 1-800-829-1040. The IRS employees at that line can help you with a payment issue, if there really is such an issue.
If you know you don't owe taxes or have no reason to think that you owe taxes, then call and report the incident to the Treasury Inspector General for Tax Administration at 1-800-366-4484.
PHISHING   These are scams carried out with the help of unsolicited e-mail or a fake website that poses as a legitimate site to lure in potential victims and prompt them to provide valuable personal and financial information. If you receive an unsolicited email that appears to be from either the IRS or an organization closely linked to the IRS, such as the EFTPS (Electronic Federal Tax Payment System), report it by sending it to

phishing@irs.gov

. IRS does not initiate contact with taxpayers by e-mail to request personal or financial information.
FALSE PROMISES OF "FREE MONEY" FROM INFLATED REFUNDS Scam artists posing as tax preparers and promising large tax refunds, often refunds, as the IRS says, people never dreamed they were entitled to in the first place. They may use flyers, ads, phony store fronts and word of mouth, and even community groups or churches, where trust is high. They prey on people who do not have a filing requirement, such as low-income individuals or elderly. Non-English speakers, who may or may not have a filing requirement are preyed upon. The IRS gives many examples they have encountered, and reminds all taxpayers that they are responsible for what's on their returns even if it was prepared by someone else.
RETURN PREPARER FRAUD   As the IRS says:  it is important to choose carefully when hiring an individual or firm to prepare your return, and only use preparers who sign the returns they prepare and enter their IRS Preparer Tax Identification Numbers (PTINs). This particular fraud can simply be avoided by using Potts & Company, CPAs to prepare your return.
OTHER FORMS OF FRAUD INCLUDE: 
v HIDING INCOME OFFSHORE
v IMPERSONATION OF CHARITABLE ORGANIZATIONS
v FALSE INCOME, EXPENSES OR EXEMPTIONS
v FRIVOLOUS ARGUMENTS
v FALSELY CLAIMING ZERO WAGES OR USING FALSE FORM 1099
v ABUSIVE TAX SHELTERS
v MISUSE OF TRUSTS
We would all like to think otherwise, but the sad fact is that there are a lot of bad and misguided people out there, more than ready to prey on each of us. The IRS handles almost 250 million returns of all types annually, according to their releases, and this very high volume unfortunately leaves scammers an opening to profit.
Just don't let them profit from you!
Joe