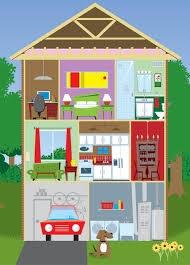 It doesn't occur very often, but occasionally the IRS makes a change which actually is a simplification.  This may make you think of President Reagan's famous quote "The nine most terrifying words in the English language are 'I'm from the government, and I'm here to help.'  But this change is one which, for many taxpayers, will save them at a minimum a little time, and in some cases tax dollars.
You may be aware that the tax law allows a taxpayer a "Home Office Deduction," if they use a part of their home "regularly and exclusively" for conducting business. The rules require that you must show that you use your home as your principal place of business, but even if you conduct business at a location outside of your home, but also use your home substantially and regularly to conduct business, you may qualify for a home office deduction.
The basic rule to qualify for the Home Office Deduction summarized
As an example, the IRS says, if you have in-person meetings with patients, clients or customers in your home in the normal course of your business, even though you also carry on business at another location, you can deduct your expenses for the part of your home used exclusively and regularly for business. You can also deduct expenses for a separate free standing structure, such as a studio, garage or barn, if you use it exclusively and regularly for your business. The structure does not have to be your principal place of business or the only place where you meet patients, clients or customers.
The above situations generally relate to self-employed persons. There are additional tests which apply to employees who use a part of their home for business, and which may allow such employees to qualify for a deduction for business use (as an employee business expense itemized deduction, with only the excess of the deduction added to certain other "miscellaneous itemized deductions" over 2% of your Adjusted Gross Income allowed).
Employees must meet the above tests, and also (1) the business use must be for the convenience of your employer, and (2) limitations apply when you rent any part of your home to your employer and use the rented portion to perform services as an employee for that employer.
And, if the use of the home office is "merely appropriate and helpful," you cannot deduct expenses for the business use of your home.
How the deduction is figured
For a very long time, determining the expenses for a home office have required that you compute all of the expenses of your home, including, but not limited to, insurance, taxes, mortgage interest, repairs, maintenance, house cleaning costs, utilities and so on. Once you have calculated each of the costs of operating the home, a calculation is made to determine a percentage, usually based on the square footage of the office space divided by the square footage of the whole home. This is the amount of your deduction, unless there are expenses which benefitted only the office area, in which case you can add those. Items which would have been deducted anyway, such as your mortgage interest and real estate taxes on the home, are split between the home office expense and your itemized deductions (if you itemize).
In determining expenses for a separate structure which meets the test of being "regularly and exclusively" used for conducting business would not require you to make the percentage calculation, but most home offices require it because the office is in the home.
So what's changed?
The IRS has decided that if the taxpayer elects, instead of determining actual costs of the home, he or she can (1) determine the square footage of the home office, and (2) multiply the number of square feet, limited to 300, by $5.00, up to a maximum deduction of $1,500. You may use the simplified method one year and revert to the "traditional" method the next, and go back to the simplified calculation the next.
Depending on how much your home office deduction would be will be the determining factor. If you have been deducting, say $5,000 each year using the "actual expense" method and the percentage, you're not likely to want to use the simplified method. But if you feel your deduction if actually calculated would be $1,500 or less, you'll likely want to use the new method.
It is important to note that before you can get a deduction at all for a home office, you must use the area "regularly and exclusively."  This is sometimes more difficult to figure out than the amount of expenses.
Included in the costs allowed in the "actual expense" method is depreciation of the part of your home allocated to the home office; however, if you do so, that percentage of the home will not qualify for the exclusion of gain on sale of principal residence if you later sell your home, and a special maximum capital gain rate 25% applies. (The depreciable life of a residence is 39 years unless you own a multi-family residence in which you live, in which case the depreciable life is 27.5 years.)
No depreciation is allowed if you use the new "simplified rule."
Is this all?
You should know better. It may appear that this article contains everything you could possibly want to know about the Home Office Deduction, but there is much more. We have prepared a handout which will help you. If you will let us know, we will get one to you. And we are always happy to discuss these types of opportunities with you. It's why we're here!
Joe