The last of the General section we are going to discuss, is Date and Time. You'll find the Date section at the bottom of the My Preferences Tab. The Time section is on the Company Preferences Tab.
There are two options regarding date. You can choose to have the current day automatically enter on a transaction, or to have the last entered date. QuickBooks requires one of these to be marked. If you are using your QuickBooks on a daily basis, and entering your items regularly, then you will want to choose Use today's date as default. There aren't too many reasons you would want to have Use the last entered date as your default.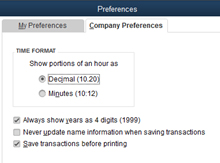 If you track time, either in your Customer Module or the Payroll Module, then you'll want to make sure you have the time set to your preference. QuickBooks lets you choose to use either decimals or minutes. I find decimals are the easiest to use, but you might have a time tracking system that goes by minutes. Either way, you have the option of choosing which works best!
That concludes the tips for the General section. Check back for our next section, Accounting!
Terra